Sheeper by the Dozen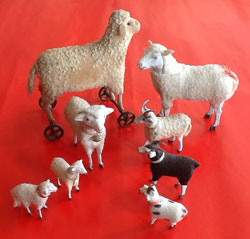 Stick leg or German wooly sheep are popular antiques to collect. These sheep have their origins in the decorative Christmas villages that were a long-standing tradition of the Moravian church, a Protestant denomination. In America, early Moravian settlements could be found along the Lehigh River in Pennsylvania, especially Bethlehem and in Salem, North Carolina. From the early colonial times, these Moravian families would construct a nativity scene, or putz, in a corner of their house. As Christmas trees became popular, they would decorate under the tree. By the early 19th century, more elaborate scenes were being constructed and found on the fireplace mantels and other prominent places in the Moravian home.

The term "Putz" was derived from the German verb putzen, which means to decorate. The collection of clumps of moss, tree stumps, roots, and other natural materials to create the scenes started in September. Old roots of trees covered with moss could be used to create a grotto scene with lifelike figures of shepherds and sheep peering out. By the 1870s, tin soldiers and other toys found their way into this small world as the nativity scene was augmented with other themes. For many families, the act of creating the Putz was more in-depth and took longer than decorating the Christmas tree.

Of course, sheep were key animals in every nativity scene and these small wonders were created in different styles and forms. In addition to the nativity scenes, sheep could be found throughout the year as inexpensive toys sold by street vendors in Germany and other European counties as well as in the United States.



Sheep in wooden cart with tin wheels and
Christmas feather tree decoration.

These sheep come in many sizes from just a couple of inches to larger ones. You can also find them pulling carts, in carts and standing as pull toys. The classic sheep have stick legs with soft wooly bodies and often sport a ribbon around their neck. You can find ones with Christmas themed accessories such as the little feather tree piece - seen in the photo to the left - with four wooly sheep in a cart with tin wheels.
When collecting these precious sheep, as is typical, condition means a lot when it comes to their value. The better the condition, the more valuable they are.

Since these were originally from German descent, many of them had paper tags signed "Germany". Most of the sheep you will find are primarily white and have stick legs with wool in different forms.

The following will make the sheep more valuable:

Sheep Pull Toy
Sheep greater than four inches
Ones with fabric ears
Black sheep are rare
Sheep, black or white, with rams horns are rare
White sheep with black spots and rams horns are very rare
Sheep made with sheared coats
In addition to sheep that would have been found in the nativity scenes, you can also find Putz sheep pull toys on wooden platforms. Those with iron or tin wheels are much more valuable – and the bigger the better they are! Wooly sheep on iron wheels are commonly Steiff made and are very valuable; especially if they still have the pewter "Steiff" button in one ear.

Search for sheep on Dig Antiques.
References:
Holiday Thankfulness
There is something that is irresistible about collecting sheep. For one thing, you can collect a lot without needing anything more then a shelf or two. Many are inexpensive which allows for a bit more collecting. And, let's face it, half the fun of collecting is the hunt to find one you don't already have. We have collected many over the years and have sold a few as well.
As we fly from California back to the east coast, we are eagerly looking forward to our time with family and friends. We'll be starting with Thanksgiving in NJ and celebrating Christmas in the Adirondacks. We could do without the cold temperatures, but then again Christmas always seems more traditional with snow so we'll have to agree to the cold to get the snow.

Between Thanksgiving and Christmas, we will be exhibiting at the Heartland East/Howard County Antiques Show on Saturday, December 14 in West Friendship, MD at the Howard County Fairgrounds. We would like to encourage you to attend and stop and see us in the Baker & Co. Antiques booth. We'll have Dig Antiques re-useable bags which we will be happy to give you for free as a thanks for your support.

Please welcome our newest shop on Dig Antiques, The Rathbun Gallery. They have some lovely antiques for sale so be sure to check them out. An antique makes a great present and Dig Antiques is an easy way to search for the perfect antique!

We are thankful for our family, friends and our extended "antiques" family. Thank you for your support. We wish you a happy and safe Thanksgiving wherever you may be.
Sincerely,
Tom & Sheila Baker
diginfo@digantiques.com

We Dig It...do you? Dig Antiques - Real stuff without the fluff.
Search Showcase
Have you been digging for antiques recently?
October 2013 Top Searches
Below is a summary of the twenty most popular search phrases last month.
1. iron
2. blue
3. centennial
4. windsor chair
5. American country smalls
6. paint
7. Norton stoneware
8. bucket bench
9. paint decorated box
10. velvet
11. stoneware
12. country store
13. cupboard
14. marble
15. gameboard
16. blue paint
17. tavern table
18. jelly cupboard
19. splint basket
20. doorstop