Charles Gardiner Antiques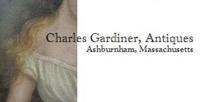 Charles Gardiner
|
Ashburnham, MA
|
978-827-3079
|
cgardinerantiques@yahoo.com
It's said that New England is the nation's attic... I've been working in the attic for fifty years and haven't got it cleaned out yet.

Sometimes the stuff that got consigned to the attic is almost as new; sometimes it's just a shadow of what it once was, but the quality that everything in the attic shares is that someone cared enough about it to put it there, to keep it.

I buy and sell antiques. I have absolutely nothing that you need... but you may find that I have something that you'll agree is worth keeping. You might even find something that you wish to entrust to yourself to keep.



~~~~~



I happily accept cash, checks, money orders, PayPal, and sometimes even promises. If you're in the neighborhood we can arrange for you to pick up in Ashburnham, MA, 01430, or if I'm in your neighborhood (I do at least a few shows here in New England and beyond) I'd be happy to bring it to you. Failing that, there's always Priority Mail or UPS. The cost of shipping and insurance will be yours. You'll always have a "no questions asked" return privilege for a full refund of the purchase price (not including the cost of shipping) for three days following receipt.

More images are available for anything I've listed here. Simply email me.

And you'll find more at my web site CharlesGardinerAntiques.com.
---
Dig Antiques assumes no responsibility for the items listed for sale on DigAntiques.com. Any transactions as a result of items listed for sale through this Shop is strictly between the Shop and the Buyer. Please read the Dig Antiques Terms of Service for more information.